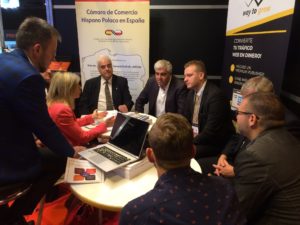 W tegorocznej edycji Międzynarodowych Targów Cyfryzacji Przedsiębiorstw – Digital Business World Congress #DES2017, które odbyły się w Madrycie w dniach 23-25.04. 2017 r. uczestniczyło 9 polskich firm. Digital Enterprise Show to największe targi branży cyfryzacji Półwyspie Iberyjskim i drugie w Europie, który skonsolidowały się jako wielkie międzynarodowe spotkanie gospodarki cyfrowej. 17% odwiedzających pochodzą głównie z Wielkiej Brytanii, USA, Francji, Włoszech, Niemczech, Izraela, Polski i Meksyku. Targi gromadziły, poza wystawcami z Hiszpanii i Polski, firmy m.in. z: Niemiec, USA, Izraela, Holandii i Szwecji. W targach uczestniczą również przedstawiciele centrali znanych międzynarodowych koncernów.
Największe międzynarodowe spotkanie o transformacji cyfrowej, zamknęło swoją drugą edycję przewyższając oczekiwania, osiągając cyfrę 18.029 uczestników, w tych, 69% odwiedzających zajmujące wyższe stanowiska kierownicze i uczestniczące w podejmowaniu decyzji ich firm, będąc ten aspekt najbardziej ceniony przez wystawców.
Na stoisku narodowym, organizowanym przez Wydział Promocji Handlu i Inwestycji Ambasady RP oraz Hiszpańsko-Polską Izbę Handlową w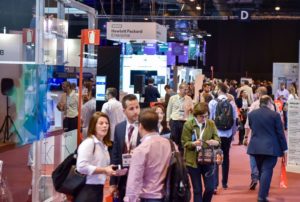 Hiszpanii, swoją ofertę zaprezentowały następujące polskie firmy: Cloud Community Europe Polska, FerPay.com, Innotech, SelfMaker, Stillsec, Vintom, VoiceLab, Way to Grow i Wirtuale.pl.
W trakcie targów przedstawiono polską ofertę branży cyfryzacji przedsiębiorstw oraz projektów międzynarodowych. Stworzono polskim firmom możliwości nawiązania kontaktów z potencjalnymi partnerami zarówno z Hiszpanii oraz innych krajów.
23 maja obecni na stoisku przedstawiciele polskich firm odbyli m.in. spotkanie z przedstawicielami Madrid Lab, w trakcie którego władze Madrytu przedstawiły możliwości korzystania przez polskie start-up´y ze wsparcia miasta Madrytu. Ponadto polski biznes odbył wiele spotkań i rozmów z potencjalnymi partnerami z innych krajów.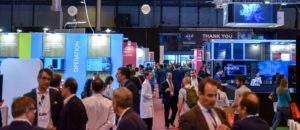 DES ogłosiła już terminy trzeciej edycji, która odbędzie się od 22 do 24 maja 2018 roku i ponownie, przez tydzień, uczyni Madryt stolicę świata cyfrowego biznesu.
Źródło: Wydział Promocji Handlu i Inwestycji Ambasady RP w Madrycie